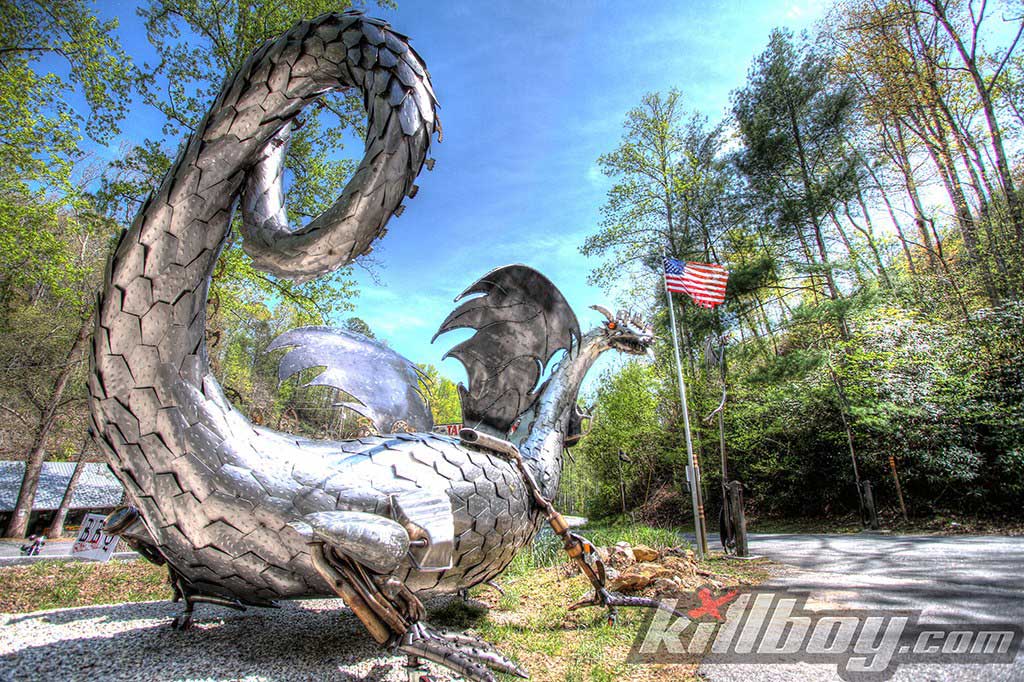 Tail of the Dragon at Deals Gap with 318 curves in 11 miles: America's number one motorcycle and sports car road.
Designated US 129, the road is bordered by the Great Smoky Mountains and the Cherokee National Forest with no intersecting roads or driveways to hamper your travel. It is considered "the destination" for thousands of motorcycle and sports car fans throughout the spring, summer, and fall. Can you brave it? It's best to be cautious as the turns are tight, but the Tail of the Dragon is guaranteed to be the ride of your life.
The nearby Cherohala Skyway is quickly becoming a destination too, with its remote 60 miles of breathtaking scenic mountain highway. The area also has other incredible roads like the Moonshiner 28, Foothills Parkway, Smoky Mountain Loop, Devils Triangle, Blue Ridge Parkway, The Gambler NC209, Diamondback 226, Devil's Staircase, Six Gap North Georgia, The Snake US421 and many Great Forest Service Dual Sport and Jeep Roads. 
August 4, 2018

After a few rainy days, the sun reappeared for Miatas at the Gap and the Eastcoast Sand Rails Rallies. Quite a crowd at the Tail on Saturday morning as both rallies attracted a large group. The parking lot was full most of the morning. A bonus was the white water release on the Cheoah for all to see. Be sure to let us know when your group, big or small, is headed this way so we can have some custom signs and free stickers on hand.
Tail of the Dragon Store
Find your swag for all the great roads including Cherohala Skwyay, Tail of the Dragon, Moonshiner 28, Devils Triangle, Six Gap, Diamondback and more. 
Central Florida Mustang Club - Venom Outlawsv
Upcoming 2018 Events
From official rallies with hundreds of attendees to a small gathering of friends, our region is ready to host your group. Let us help you plan your event.
There are a wide variety of accommodations in our area. These range from basic tent camping to exclusive mountain top resorts.
Ready to find out more?
Tailofthedragon.com is a member of the Tail of the Dragon family of websites which promote tourism in western North Carolina, eastern Tennessee, north Georgia.